These Are 21 of Our Must-Do Travel Experiences of a Lifetime!
Having had a wild year, we've thought a lot about our once in a lifetime travel experiences lately.
That's what happens when you visit off-the-beaten-path countries like Albania, Bosnia and Herzegovina, and Romania, and then quickly contrast them with the wildly popular Dubrovnik, Croatia.
You start to think about the places that stick with you, stand out in your mind, challenged you, and changed you. That was Sarajevo for us.
One thing we've come to understand is that everyone experiences places differently – and each of those experiences are valid. So, in coming up with an ultimate list of experiences, it would be wrong to call them the best travel experiences in the world.
These kinds of top life experiences lists are totally subjective – and everyone is going to have a different list. It's important to remember that.
So, having read quite a few travel experience articles over the years and having heard stories via word of mouth, this is OUR bucket list of life-changing travel experiences.
We've also included one or two things which we are lucky to have done already and feel they were so good that it's worth chatting about! Ready? Let's get on with the adventure.
See Penguins in the Wild
Starting off strong with this one, we really want to see penguins in the wild. We love penguins – as you might have already guessed by the name.
We love our stuffed penguins (who were gifts when we first met) but seeing real, live penguins would be awesome.
Now, there are a few different places that this could happen: South Africa, Argentina, Australia, and even Antarctica, to name a few.
That said, we might lean towards doing a tour in South Africa because you get to see other cool things like Table Mountain as well as a giant penguin colony!
Island Hopping in Croatia
It seems that lots of travellers go to Croatia with the intention to see the beautiful islands. We sure did when we stayed outside Split.
Turns out, it can be tricky to explore them on your own schedule due to ferry schedules and finances.
So, we did a bit of research and determined that an island hopping day tour was legitimately the best bang for our buck. Honestly, it was the BEST day – so we are recommending it as a bucket list item.
We explored the islands around Split (including Hvar) but there are more further up the coast closer to Zadar and a few further down the Adriatic Coast to Dubrovnik.
You can actually read about our experience island hopping in Croatia and watch the video on YouTube.
Camping and Canoeing Adventure in Yukon, Canada
Staying a little closer to home for this one, Canada is so massive that exploring it could take a lifetime – and you still probably wouldn't see the whole thing.
We've been to the cottage in Ontario, and Eric has been to way up in Northern Ontario, but the Canadian territories are a whole other level of Canadian wilderness.
The Yukon territory (the one close to Alaska) is one such place that we want to check out. That's one reason we have Yukon's capital, Whitehorse, on our Canada sightseeing list, as well!
We would definitely not be ready to tackle a big trip in the Yukon on our own so we would go with an experienced guide on an epic Yukon adventure.
Watching The Sunset Twice At The Burj Khalifa
Always a sucker for a sunset, we think that seeing the sunset twice in a single day would be cool. How do you do it? Head to the top of the Burj Khalifa, of course!
The Burj Khalifa is the tallest structure on Earth and is located in Dubai, United Arab Emirates.
Because the building is so tall, it is theoretically possible to watch the sunset from the ground, take the elevator to the viewing decks, and watch the sun set AGAIN.
Hooray for angles! To do that, we'd need a Burj Khalifa visitors ticket for the elevators to the top but that's easy to manage. Dubai is also a city that calls to us for exploring.
Seeing The Moai Heads On Easter Island (Rapa Nui)
Do you know those giant carved rock heads on that island? You know, the one you've seen in travel books or online before?
Well, they are called "Moai" and they are standing mysteriously on Rapa Nui, also called Easter Island. Technically part of Chile, this island has been shrouded in mystery and adventure for centuries. Naturally, we want to go and see the Moai up-close.
It's no easy feat to carve hundred of stone heads measuring 4 metres tall and weighing around 14 tons a piece.
Getting there is also no easy feat. You basically have to fly from mainland Chile – which can get expensive and logistically tough since there aren't that many flights and spaces book up in advance.
Visiting Easter Island is one of those experiences that you kinda have to plan ahead for. You don't wake up and go, "Hey, let's head to Easter Island today". Unless you're a millionaire with a private jet, basically.
Lounging On The Purest Sand In The Whitsundays, Australia
Our list wouldn't be complete without at least one Australia spot. The Whitsunday Islands will do! Fun Fact: there are 74 Whitsunday Islands, with the famous Whitehaven Beach featuring some of the purest, whitest sand in the world.
Eric visited way back in 2010 and got to go on a Whitsunday catamaran adventure out to the islands. It was such a great day. The whites and blues of the landscape are out of this world.
Lisa has never been to Australia so we think it's about time we returned to the land down under. Plus, we've got quite a few Aussie friends that keep pestering us to make the trek down there.
We actually had some travel bloggers share their other top places to check out in Australia so we've been reading that list for inspiration!
Making/Eating Authentic Sushi in Japan
Just to preface this one – we both love Japanese cuisine. Particularly, Lisa loves a bowl of authentic ramen while Eric is more a sushi guy.
We've both never been to Japan but have friends who have lived, taught, or visited there over the years. Having heard stories of how amazing the country is, we are dying to go.
When we are there, we want to take full advantage of the experience and go to a sushi making/eating class. The authenticity level would be off the charts.
Aside from eating, we also want to explore the cities like Tokyo and Osaka as well as dig our own onsen (hot spring bath). We'll keep you posted on that one.
Riding In A Hot Air Balloon Over Cappadocia, Turkey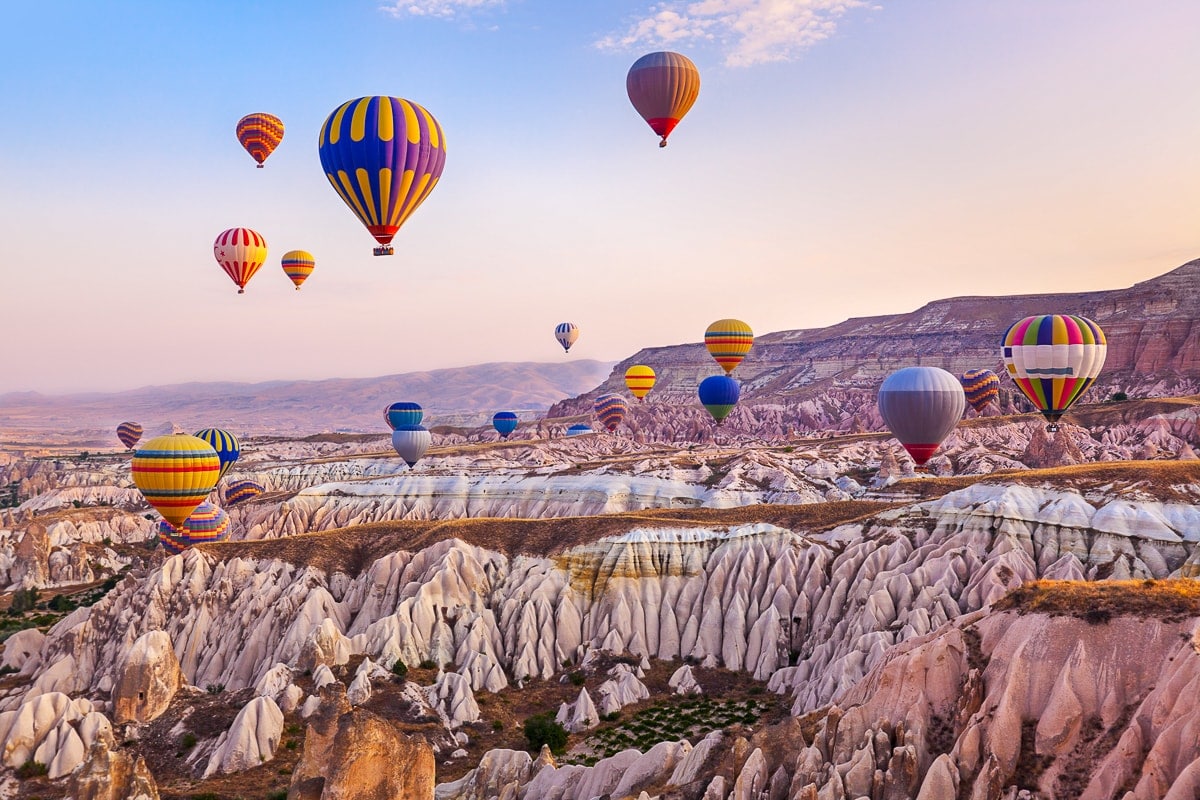 While there are a few well-known places to take an epic hot air balloon ride, few can compete with the grandeur of taking a ride in a hot air balloon over Cappadocia, Turkey.
The volcanic landscape provides an epic backdrop for dozens of balloons floating towards the sky. Eric has actually been in a hot air balloon before – but not in a place like this with many more balloons around!
We also want to explore Turkey, in general, but it's not on the list for the immediate future. Too many places, so little time.
Hiking the Inca Trail to Machu Picchu
The next two in this post are on the bucket list and are a bit of a sore spot for us. We once HAD a whole trip to South America planned and half-booked.
As per usual, life got in the way with other plans. So, we haven't been to Peru to discover places like Lima, Cusco, and Machu Picchu.
That said, we know that someday we will make it down there. For us, hiking the whole Inca Trail would be an amazing mix of exercise, scenery, and nature.
There are different trail lengths/configurations based on the time you have, your fitness level, and where you wish to begin. You don't have to walk to Machu Picchu if you don't want to.
There are day train tours to Machu Picchu from Cusco that are popular but if you wanted to make a whole trek out of it (like we want to), you might consider a full-on Inca Trail trekking tour.
Stargazing in the Atacama Desert in Chile
This is another one of those bucket list items that we ALMOST did. If you read the above entry about hiking to Machu Picchu, we had a trip planned that included (among other things) camping in the Atacama Desert on Chile.
We had heard that the stars are just absolutely out of this world and we were so looking forward to it. We are determined to make it down there someday!
We were going to do the trip on our own but hop on appropriate tours as necessary throughout South America.
Heading across the Atacama Desert with an adventure guide was one such instance since there is a lot to see along the way and navigating on your own would be difficult and potentially unsafe if you aren't prepared!
Exploring Castles In The Scottish Highlands
This is another bucket list travel experience of a lifetime that hits a sore spot. See, we've both lived in Edinburgh at one time or another (it's where we met, kinda) and neither of us made it up to explore the famed Scottish Highlands.
There are so many great day trips from Edinburgh that we have been on – but up to the Highlands, Isle of Skye, Loch Ness, etc just aren't one of them.
We know plenty of people who have explored the Highlands on tours, in rental cars, on backpacking bus routes, you name it.
In particular, there is one castle we want to see – Eilean Donan Castle. It looks gorgeous sitting there surrounded by Scottish landscapes.
We might take more time to do a day trip to Eilean and the Isle of Skye but we will plan more when trips become official and we are back in the UK!
Riding The Trans-Siberian Railway
Lisa has a thing for train rides (and Eric doesn't mind them) so naturally one of the longest train routes in the world at almost 5,000 miles over 6 days seems like a once in a lifetime travel experience.
The Trans Siberian Railway is a massive grouping of rail systems that cover Europe and Asia. The Man in Seat 61 has a helpful guide on the Trans Siberian.
The classic portion of the route would be from Moscow, Russia to Beijing, China. However, the real journey starts in the European rail system with an unofficial starting point to the "proper route" as St. Pancreas Station in London, UK.
While the tickets for a 2nd class berth aren't crazy expensive, the VISAS would be the most difficult part considering there might be 3 or more involved – Russia and China being the not-so-fun ones to apply for!
Swimming on the Edge of Victoria Falls in Zimbabwe
Heading back to Africa – specifically Zambia and Zimbabwe – and checking out the mighty Victoria Falls is definitely on our experiences of a lifetime list.
But just seeing the falls is not enough – we want to swim on the edge. Visitors to the falls can swim in what is called the "Devil's Pool" which is located beside Livingstone Island (which is on the Zambia side).
This famous pool is a rocky area that is located right on the edge of the falls – basically the scariest infinity pool imaginable. Would you hop in?
You can do a tour of Livingstone Island and hop in the Devil's Pool for the ultimate Victoria Falls experience and we are SO in.
Exploring Petra and Camping in The Jordanian Desert
This is one that Eric has had on his bucket list for a long time now. Being a big fan of Indiana Jones, he has been wanting to explore the lost city of Petra and sleep under the stars in the desert for years.
He also has a buddy who has been to Jordan and loved every second there.
After doing a bit of research, we've realized Petra is way larger than we had previously imagined. There are also lots of other things to discover in the region.
That said, we'd do a multi-day desert camping tour since a day trip just wouldn't cut it – especially if you go all that way into the desert!
Riding The Glacier Express in Switzerland
Back to the idea of trains, this is one that calls to Lisa. The Glacier Express is both the name of the train company and route that takes you through the most spectacular, wintery, and scenic parts of the Swiss Alps.
The trains have massive glass coverings so riders get the best views of the mountainous terrain. The train goes through tunnels and over large span bridges for a memorable day trip between St.Moritz/Davos and Zermatt.
If you want to check out the Glacier Express, visit their website and prepare to be amazed!
Dog Sledding and Seeing The Northern Lights In Finland
We have a thing for animals so naturally we love dogs, as well. We also really want to see the Northern Lights up close and bright while in the right season.
Eric has seen them in Canada and from an airplane but never crystal clear. Since we know that Finland's northern parts – called the Lapland – are a prime spot to view them, we'd love the opportunity to tour into Lapland.
The snow is abundant, the activities are endless (dog sledding, snowmobiling, etc), and the northern lights are basically guaranteed to be absolutely gorgeous.
That said, we would definitely keep an eye on which dog sledding company we use to make sure they have a good record going for treatment of their doggies.
Read Next – 12 Winter Destinations in Europe We Love
Hang Gliding in Rio de Janeiro
This one is definitely to cater to the adrenaline-junkie side of us. We have classic train rides on this list – but yet we also have hang gliding in Rio de Janeiro.
Having seen this activity done on Departures (arguably the best travel show ever created), soaring above the bustling Brazilian city has been on Eric's list for years.
Heights don't scare us – we've both been tandem skydiving (Eric went skydiving in Cairns, Australia) and Eric has also been bungee jumping before.
There is one company that is known for its safety record and experience taking to the skies hundreds of times a year – so we would definitely try to go tandem hang gliding with Rio Hang Gliding. We would also not tell our mothers beforehand!
Reflecting At The Salt Flats in Bolivia
This one is the last of the South America-based activities that we were about to book and then had to cancel. We SO BADLY want to see the salt flats at Uyuni, Bolivia – the world's largest salt flats.
When there is water, the place is a giant mirror, seen above. When it's dry, the flats are good for those classic photos people take that play with scale and depth.
We actually spent quite a bit of time researching the top tour companies to take us out there for a few days.
When we looked, the information was kind of lacking so we considered booking at trusted Uyuni salt flats tour beforehand as opposed to booking there.
Whatever we end up doing (when we do it) we will write all about it!
Climbing Mount Kilimanjaro
Always one to be drawn to high places for the amazing views (hence the Burj Khalifa earlier on this list), hiking to the top of Mount Kilimanjaro is definitely on our list of experiences of a lifetime.
Eric has been to Kenya and stood (briefly) in Tanzania, but never had the chance to check out Kilimanjaro.
As with most experiences here, we know a handful of people who have climbed the mountain and had an incredible time. The trick is – it's not cheap. Usually, it's best practice to hop on a guided climb that takes you up safely.
Watching The Sunrise Over Angkor Wat in Cambodia
Since neither of us has been to Asia before, we would definitely start off a little more "touristy" before diving into other experiences and countries.
When it comes to Southeast Asia, Vietnam, Cambodia, and Malaysia are our top places to go first.
For us, visiting Angkor Wat is probably one of the biggest draws to the region. We aren't religious but can appreciate the dedication to faith through architecture.
The grand size of the temple complex must be just awesome to explore, and watching the sunrise at Angkor Wat is definitely on our bucket list.
Road Tripping The Pacific Coast Highway In California, USA
Last, but certainly not least, is taking an epic road trip down California's famed State Route 1. In particular, there is a famous portion known as the Pacific Coast Highway.
This stretch of the highway has some of the most scenic and longest straights of untouched coastline in the whole of the United States.
You'll pass through the famous mountainous region, Big Sur, among other amazing places along the way.
If you are planning a road trip and looking for a deal on rental cars, you can compare prices here across the companies you know and love. We've been planning this route for some time but need to get to the US to get started!
And there you have it – 21 of our ideas for epic travel experiences of a lifetime. We truly hope that we can complete this list and then some over the course of our life but we know that we would be lucky to do even a quarter of them.
What do you think? Any of these stand out? Have you done any of them before? What experiences of a lifetime are on your travel bucket list?
Get in touch and let us know – we'd love to compare notes and ideas!
As always, Happy Epic Adventure Waddlin',
– L&E

Booking Your Trip Soon? This Is How We Do It:
Pin it for later!