Do You Have One Day In Innsbruck? Here's What to See, Do, and Eat!
Are you visiting Innsbruck and only have one day to explore? From wandering through the Old Town to riding to the top of Innsbruck on the famous Nordkettenbahn, there is definitely no shortage of great sights, food, and attractions to keep you busy.
We visited Innsbruck in November – literally the worst month because some things are closed before Christmas – but still had nice weather and got to see and do lots. We still got to explore the Innenstadt and even made a trip out to Ambras Castle.
That said, we also had some great food in Innsbruck so we decided to write up a whole Innsbruck day itinerary that includes attractions, meals, and even what to do at night! Keep in mind that our guide is more about exploring the actual city than engaging in winter sports!
If you're exploring Innsbruck (and more of Austria, of that matter), check out these other posts as well:
Breakfast at Breakfast Club
The day has officially begun in Innsbruck and you are going to need to fuel up to make it through! For breakfast, there's a top spot to head to – and that is Breakfast Club. Known for its massive menu and friendly service, this place is a popular stop.
You can find everything from sweet and savoury breakfasts to vegan options and even a classic British breakfast! It's located just a short walk south of the Old Town so if you stay in the city centre (or headed there to begin your day), Breakfast Club is a great option. You can check out the English menu at Breakfast Club here.
Address: Maria-Theresien-Straße 49 & 49a, 6020 Innsbruck, Austria
If you are looking for a faster non-sit down breakfast because you want to get sightseeing, you could always opt for a more on-the-go option and visit a bakery like Der Bäcker Ruetz – Hofbäckerei for takeaway pastries, bread, coffee, etc.
Pro Tip: Depending on where you walk from to get to Breakfast Club, there is shopping on Maria-Theresien-Straße which you can scout out for later. There are also a few significant landmarks on this street like St. Anne's Column and the Triumphal Arch.
Getting To/Around Innsbruck

Before we deep dive into this Innsbruck day guide and exploring the city centre, now is a great time to briefly cover both how to get to Innsbruck and how to get around Innsbruck.

Innsbruck is easy to get to via train from other parts of Austria or surrounding countries like Germany, Italy, or Switzerland. The central train station (Hauptbahnhof) is a short walk from the Old Town.

In short, the city centre (called the Innenstadt) is very flat and easy to walk around. The surrounding areas are far more hilly with mountains rising up the further you go from the city. The city has a great transit system of buses, trams, and cable cars. You can learn more here about the IVB transit system.

Pro Tip: The local transit system has a bus called the "Sightseer Bus". This bus basically runs as a hop-on-hop-off and has a route that visits the city's top sights!

Innsbruck Tours

If you are short on time and want to squeeze what you can into a single day, a day tour/guided tour is a great way to learn about history, eat great food, see sights, etc.

⇒ A Guided Walking Tour of the Highlights
⇒ Experience the City Through an Innsbruck Food Tour
Morning Activity: Explore the Old Town
Of course, you cannot visit Innsbruck without exploring its historic Old Town (Altstadt) in the heart of the city centre – or Innenstadt. The architecture is absolutely beautiful and there is so much history to learn about and even read about at every turn.
So, having said that, we would suggest spending a whole morning just wandering around the Old Town. This is basically what we did and we got to see and do lots in the span of just a few hours. Because of the popularity of the Old Town, you will also find a number of cafes and tourist shops for souvenirs and more.
As there are a number of top attractions you can visit here, we have outlined the main ones below. They are all within walking distance of one another which makes navigation and getting around pretty simple. We visited most of these but want to go back to explore the rest.
Golden Roof and Museum (Goldenes Dachl): 2657 gold-plated tiles upon a balcony commissioned by the important Emperor Maximilian I in the very early 1500s + informative museum.
City Tower (Stadtturm): A 15th-century watchtower/former prison with spiral stairs to amazing views of the city + small museum.
Imperial Palace (Hofburg): A centuries' old Baroque Palace which housed Habsburg royals with elaborate decor and museum exhibits.
Court Church: 1550s church houses the elegant tomb of Maximilian I with 28 bronze statues and more significant Tyrolean history.
Tyrolean Folk Museum: A museum dedicated to showcasing the life and times of the Austrian state of Tyrol re-created through with costumes and festivals.
Innsbruck Cathedral: 1700s-era cathedral named after St. James featuring an important painting of the Virgin Mary.
Hofgarten: a large city park/garden area with paths, a playground, and small buildings like a greenhouse, music pavilion, and a small museum.
Lunch at Markthalle
It's lunchtime in Innsbruck and you're likely going to be hungry after exploring the Old Town and a bit of the surrounding inner city. Luckily, the lunch stop is not too far from the Old Town!
Head for the Markthalle – a food hall located right along the beautiful Inn River. You actually get great views of the mountains from the riverside near the entrance.
Inside, you'll find a massive space dedicated to food. From vendors with fresh food, meat, bread, and produce to shops and stalls with spices, wine, and treats – there is something for everyone. Wander around the place to check out what there is to eat.
There are a number of Italian/pasta places clumped together with portions for a decent price but you can also find other cuisines. We stopped for some ravioli and they were delicious! You can learn more about visiting the Markthalle here.
Address: Herzog-Siegmund-Ufer 1-3, 6020 Innsbruck, Austria
Tip: While you are visiting the Markthalle, head outside the entrance, and look across the Inn River to snap a photo of the famous Colourful Houses of Innsbruck!
Afternoon Activities: Explore Outer Innsbruck
After lunch in the city centre, you're in a perfect position to head a bit further away to explore. Since there are lots of places you could check out surrounding the city centre, we wanted to talk about two main options to cater to different interests: go up the Norkettenbahn or visit Ambras Castle.
(Truthfully, you COULD visit both in the span of a few afternoon hours but if you want to enjoy your time at either one then just visit one).
Nordkettenbahn
Innsbruck is a city known for winter sports thanks to its location in the Alps. However, even if you are not skiing, you can still explore the surrounding mountains and take in the amazing views of the landscape around.
For this, Innsbruck has its own mountain – and you can head up from the city centre in about 20 minutes! The whole cable car ride to the top of the Nordkette mountain range is broken up into pieces starting from city centre:
First: Congress Station to Hungerburg via the Hungerburgbahn funicular. You can find the Alpine Zoo as a stop along the way.
Second: Hungerburg to Seegrube via Nordkettenbahn cable car
Third: Seegrube to Hafelekar via Nordkettenbahn cable car
Fourth: Hafelekar to "Top of Innsbruck" by walking a short path
You can learn more about getting to the top and the schedule on the Nordkette website here. When we visited in November the tracks were closed for construction so we didn't get to go up to the top – but we will be back just to have that experience. You can get your full return ticket to the top and back here.
Once you are at the top, you can enjoy the views, stop at the restaurant/shop, and also hike around a bit. If it's the winter and you want to ski, you can do that too – but check the conditions beforehand before you lug your skis or board up the mountain. If you are travelling to Innsbruck with kids, you might want to stop by the famous Alpine Zoo for a look at the local alpine animals.
Address for Congress Station: Rennweg 3, 6020 Innsbruck, Austria
Ambras Castle
If you don't want to go up the mountain (perhaps it's poor weather and visibility would be terrible), then you can always head for another top attraction outside the city centre: Ambras Castle. Known as Schloss Ambras in German, this 16th-century castle has a large collection of art thanks to its former inhabitant Ferdinand II.
Today, you can explore the many exhibits of the castle and also wander the grounds which are quite pretty and very green. We explored the grounds because the Castle itself was closed in November to prepare for Christmas festivities.
In any case, you can check here for your Schloss Ambras ticket. You can get there using the public bus #4134 from Hauptbahnhof to the stop: Innsbruck Schloss Ambras (Aldranser Straße). You can also take the Sightseer Bus, mentioned above in this post!
Address: Schloßstraße 20, 6020 Innsbruck, Austria
Alternative Afternoon Idea: Okay, if you are super into buying or collecting Swarovski Crystals, then you might be interested in visiting Swarowski Crystal Worlds. This place is very popular among visitors but located outside the city centre. You can get there via a dedicated shuttle bus in about 25/30 minutes from the Old Town.
We didn't go but it's a fascinating place to check out with outdoor garden space, shops, art displays, and even stuff for kids. You can get you ticket with shuttle bus included here.
Afternoon Break at Strudel Cafe Kröll
Once you are done with your afternoon activity (whatever that may have been), you should head back to the heart of the Old Town to indulge in a sweet treat and a bit of a rest. For this afternoon break, you could head to Strudel Cafe Kröll. This is what we did and we really enjoyed it!
Known for serving up sweet and savoury strudels – a national dish of Austria, you can either enjoy a strudel there or take it with you to enjoy in a park etc. Eric got a cherry strudel which he loved but a classic would be apple strudel with vanilla sauce.
We had a sit down and even got coffees which were a nice addition. We'd recommend the cafe – they even do breakfast and have other treats on hand but we can't comment on those! You can check out the menu and more at the Cafe Kröll website.
Address: Hofgasse 6, 6020 Innsbruck, Austria
Optional Early Evening Activity: Bergisel Ski Jump
If you don't want to take an afternoon break in the Old Town, there would be time for one last late afternoon activity before dinner. For this, there is no better place to end off the day of wandering than the Bergisel Ski Jump. Used in two Olympic Games and for an annual ski jumping competition, this ski jump is an iconic place to visit that sits high atop the city skyline on Bergisel (a hill).
Regardless of the season, you can visit the sky jump and head up to the viewing platform for wonderful views of the city. There is also a restaurant up there in case you want to have dinner or even just a drink. Oh, and you can take a tram to the platform or climb the stairs (season and fitness level depending)!
Visiting the platform makes a activity before dinner because it is open until 5 pm or 6 pm in winter and summer, respectively. You can get your ticket to visit the Ski Jump and Arena here. Once again, you can take public transit there or you can hop on the Sightseer Bus.
Address: Bergiselweg 3, 6020 Innsbruck, Austria
Dinner: Fischerhäusl
Once you are done taking in the views of the city below and the mountains behind, it's time for dinner – and do we have a suggestion for you: Fischerhäusl! This rustic and cozy Austrian restaurant is a popular place among locals and visitors because they do a great job serving up an authentic and delicious menu.
We went early without a reservation and were lucky – the place got full and it was packed until we left! The waiter we had as honestly SO fun/friendly – speaking German to Lisa and joking around with Eric in English.
Lisa had Käsespätzle (Egg noodles with cheese) while Eric chose the Tiroler Gröstel mit Ei (a local dish of roasted potatoes with beef and a fried egg). Paired with salad and beers everything was honestly amazing. We had such a great overall experience and hope that if you choose Fischerhäusl you will, too. You can check out the menu/website in German only here.
And we would honestly recommend that you make a reservation (we were just very lucky without one) – especially if you visit during the busy season and/or the weekend. You can also stop in shortly after they open to ask to reserve a table for later that evening.
Address: Herrengasse 8, 6020 Innsbruck, Austria
Evening Activity: Drinks, Traditional Song, or Theatre
Finally, it's night time in Innsbruck and if you are looking to end the day right (and have energy left), there are a few different things you can do in Innsbruck at night!
For this itinerary, as always, we like to give different options to cater to different interests: Drinks, Austrian Folk Music, or Theatre!
Drinks in Innsbruck
If you want to make it easy and have a drink, Innsbruck is a great place to do that. The easiest option would be to just stay at the restaurant you had dinner at (Fischerhäusl) for classic local and regional beers. Alternatively, you can head to a few places nearby that specialize in more than just beers.
You might consider heading to Tribaun for craft beer or Café Bar Galerie if you are looking for a place that does cocktails and/or music. It's really up to your personal preference and energy levels – but they are both in the Old Town so it would only be a short walk from dinner.
Traditional Austrian Folk Performance
If you are looking for a more traditional way to end the night and you haven't had enough Austrian culture, you might want to experience an Austrian Folk Music Performance!
Put on by the famous Gundolf Family, this performance includes Tyrolean costumes and songs that are performed with dancing, singing, instruments, and even yodeling! You can actually watch the show and eat dinner at the same time if you wanted to make that your dinner stop, too.
Overall, this highly-rated show is a fun way to hear all about Tyrolean culture through sing and dance. The shows are more popular in the summer season but still worth looking into when you visit. They are located just outside the city centre and you can book a ticket here.
Address: Kapuzinergasse 11, 6020 Innsbruck, Austria
Tiroler Landestheater Innsbruck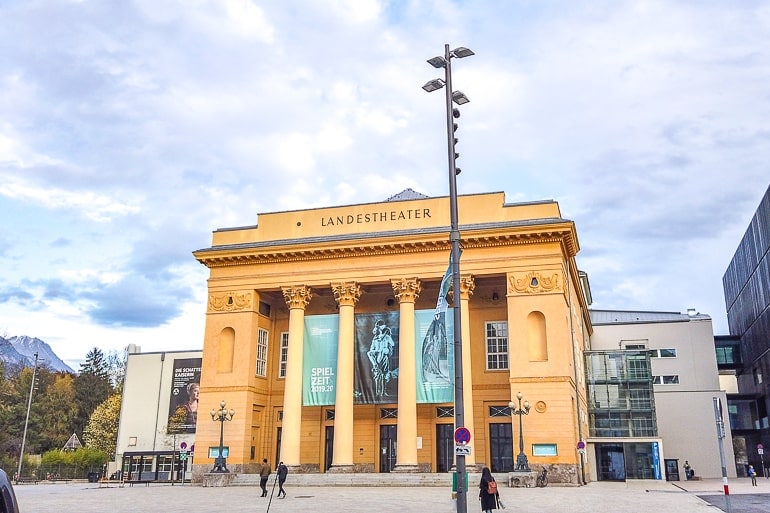 Last, but certainly not least, if you want a more formal evening of performance but want to stay in the city centre, you could always check out what's on at the Landestheater.
This large building is hard to miss being located right across from the Hofburg (Imperial Palace) and puts on numerous shows throughout the year – from music and dance to plays and other theatrical performances.
Most of the shows are likely to be in German but if you want to check it out, go for it! To check what's on at the Theatre, you can visit the official Landestheater website here (German only, sorry)!
Address: Rennweg 2, 6020 Innsbruck, Austria
And there you have it – a complete guide on how to spend one day in Innsbruck, Austria! There are a number of other attractions you could visit but we think this post is a good mix of the seeing top sights and enjoying great food at a nice pace. Whenever you visit, enjoy the city!
As always, Happy Innsbruck Day Waddlin',
– L&E
Booking Your Trip Soon? This Is How We Do It:
Pin it for later!